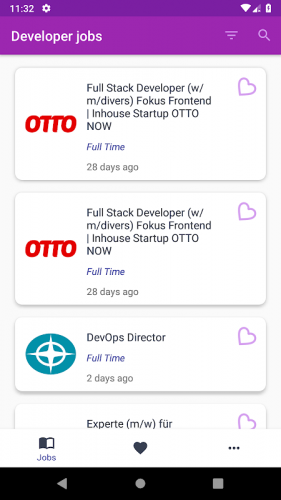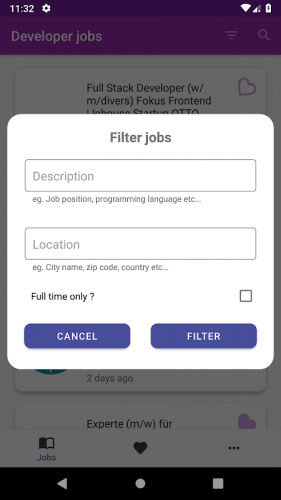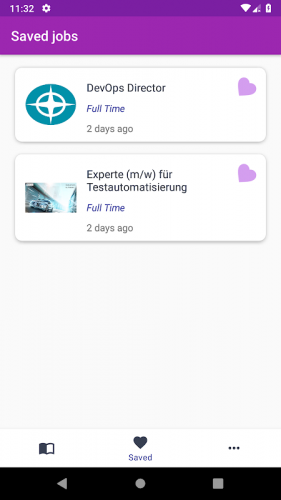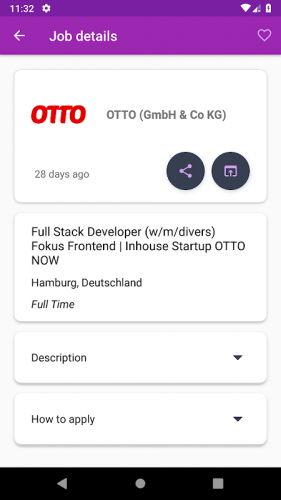 Download the latest version from
here
Did you ever think about working remotely from companies all around the world ?
This App will gonna help you to achieve this !
This App helps you find remote jobs through listing available jobs on the GitHub Inc. platform, the most famous platform for gathering software engineers, IT enthusiasts, coffee and pizza consumers at one place.
Whether you are looking to earn some extra pocket money, work from home, turn a hobby into a side job or go freelance full-time, there are a number of incredibly helpful resources at your disposal. Here are the best job offers for finding work as a freelancer or permanent position as a developer, software engineer.
IT Work Remotely (iWr) is a remote job aggregating platform where you can find fresh remote jobs every day collected from around the world.
Most of the jobs are are related to IT work that provide work from home options or full time contracts.
You can find jobs for the programming languages such as Python, Java, Kotlin, Swift, Scala, C, C++, PHP, Elixir etc…
IT & Programming: front-end, back-end, web & mobile development, WordPress, infrastructure, network and database administration freelance jobs, among others.

Web & Graphic Design: illustrations, logos, user interface design, videos and many other design freelance jobs.
The app provides you with: • Search for your favorite jobs • Filter the jobs according to your city or country • Filter the jobs according to your programming language • Filter the jobs according to your contract type eg. Full time or part time • Fast and easy-to-use job search • Share and email your favorite jobs position • Save jobs so you'll never miss out on a good career opportunity • Apply easily with instructions provided from the employers and many more…
Find projects and freelancing jobs right from your mobile now.
The best part is that we will never ask for your Resume/CV or sign ups !
We'll help you find a good paid dev. job nearby fast.
If you want to find a good job this employment app will really help you, because it provides the jobs from the most active community of engineers and developers such as yourself.
If you're looking for: "find local developer jobs now hiring near me", "find local software engineering jobs now hiring near me", "software engineering jobs around me", "full stack developer jobs around me", "get hired as programmer "?
Then this is indeed the jobsearch app for you.
With just one search, you can instantly find a real job among the many software engineering jobs available.
If you want to find a job in India, US or UK! Not satisfied with your current job position? Start your job search now and discover a new software engineering job!
Ff you're looking for a great job, it may be just around the corner - download this app ! Let us help you to find your next job position!
Apply for your dream job. We offers you the easiest way to connect with employers, professionals and companies that offer software engineering jobs, developer jobs and IT jobs.
Clean, user-friendly design makes it super easy to search for, find, and apply to jobs.
You don't have to leave the app to apply to jobs.
Material design UI !
And, the best of all is that our App is a 100% Free without advertisements !
Need a job in the IT industry ? We are your best friend on the way of finding your next job! Download our job search app for FREE!
Find the hot tech-jobs such as Android, iOS, mobile app developer, Kotlin, Swift, java, project manager, analyst, product, marketing, SEO, geo, angular, HANA, Cassandra, Cloudera, PaaS, OpenStack, CloudStack, Chef, Pig, MapReduce, Puppet,.net, python, Big Data, Oracle, SAP, Peoplesoft, QA, C#, network engineer, systems administrator, DBA, .NET, hadoop, SQL, Salesforce, Linux, C++, SAS, VMware, PHP, Ruby, DevOps, computing, and thousands more.
This app is not associated, sponsored nor has any affiliation with GitHub Inc.
Download the latest version from
here